LIONS SIGHT
RESEARCH FOUNDATION
11124 Wurzbach Rd. - Suite 205 ~ San Antonio, TX 78230
Phone 210-561-2366 ~ Fax 210-561-2365 ~ Email JWSA@JUNO.COM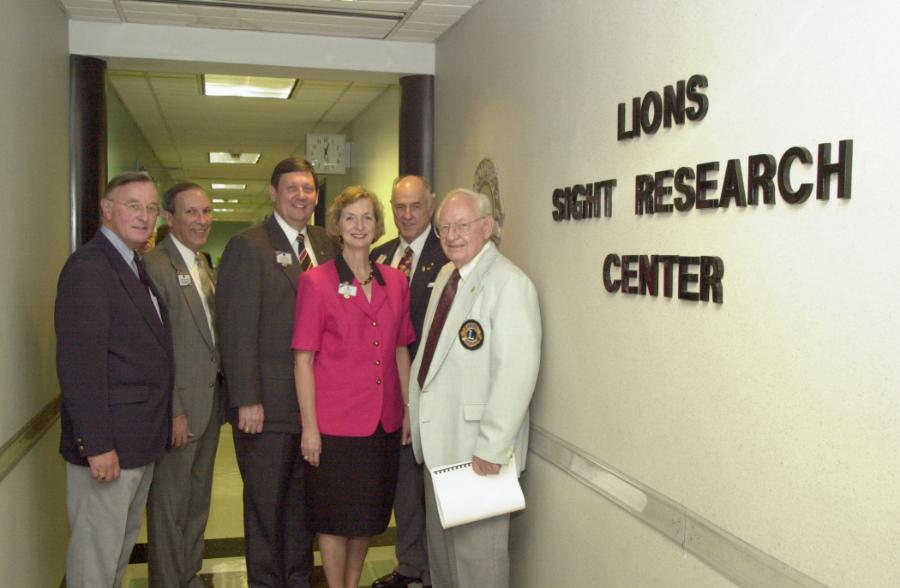 J. Frank Moore and wife, Lion Rita, are shown with Dr. van Heuven of UTHSC, PID Connie de la Garza, PDG Hugh Scott, and Lion (Dr) Gene Eberlin, Director Emeritus of the District 2-A2 Lions Sight Research Foundation
FOUNDATION NOTES
- March 2001

MESU Program - The Mobile Eye Screening Unit is being kept busy on most Saturdays. In fact, there is only 1 Saturday open between now and the District Convention. This means that your Club is going to be disappointed if you wanted a Saturday and are not already on the schedule. The lesson here is that you must plan ahead and schedule long range. Fridays, Saturdays, and Sundays are the most popular days so take this into account in your planning. It is important that we keep this valuable District resource busy serving our communities. Contact Lion Chris and he will work with you to find a date and a location. Each Club should host at least one visit each year !!

Foundation Election - Four slots on the Foundation Board of Directors will be filled at the District election which will be held at the Annual Convention in early May. If you or a member of your Club wishes to be considered for one of these important positions, the Foundation must receive a Club Resolution not later than March 26, 2001. The Foundation will review all candidates and submit names to the District Governor on April 1, 2001.

Lions Low Vision Center of Texas - The Foundation has submitted a "Core 4" Grant Proposal to LCIF seeking a grant of $200,000 to kick off the formal fund-raising portion of this exciting new MD-2 Program. Planning is underway in cooperation with the University of Texas Health Science Center, Department of Ophthalmology, for what will become a world class facility offering clinical, educational, and research services related to all aspects of a problem that is destined to touch us all: Low Vision.